UBE achieved ISO/IEC 17025:2017 certification
Raise the standard of the laboratory and emphasize the image of a leading supplier of ethanol products of international quality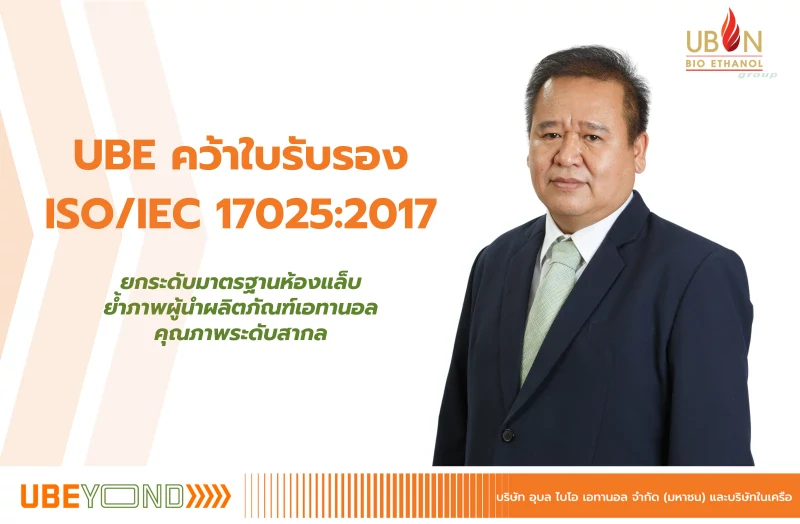 Ubon Bio Ethanol Public Company Limited or UBE, a Thailand's leading manufacturer and distributor of processed cassava products, including ethanol products, Tapioca starch and Cassava flour, and other organic products, has obtained certification of the testing laboratory's capabilities in accordance with the industrial product standard ISO/IEC 17025:2017 for the ethanol business from the Department of Scientific Services of the Ministry of Higher Education, Science, Research and Innovation, reflects the testing capabilities of the ethanol product laboratory, which is reliable, accurate, in accordance with academic principles and international standards, and ready to provide product testing services to external customers, this is in line with the strategic business growth plan "UBEYOND"*.
Mr. Wuttipong Nilpai, Senior Executive Vice President of Ethanol Business of UBE, revealed that "Achieving ISO/IEC 17025:2017 certification is considered a successful implementation of the strategic plan to create growth in the field of Beyond through innovation, by going beyond with open innovation and related to the business activities of UBE and its subsidiaries. Throughout the past period, UBE delivers standard quality ethanol products and receiving certification will help improve the reliability of laboratory testing, which not only emphasizes the strength of our research and development and product quality, but it also guarantees the standards of a reliable laboratory follow international principles and help expand UBE's ability to provide additional service of product testing services to external customers, as well as create an advantage in the ethanol business, including helping to support the strategic plan that aims to research technology to expand from ethanol to new industries that use ethanol as an ingredient, based on business principles that cover sustainability in every dimension".
ISO/IEC 17025:2017 is a general specification for the ability of laboratories to perform reliable testing, including quality management and academic requirements. It is considered the international standard for assessing laboratory capabilities, covering everything from sample preparation expertise to test, analysis, record, and reporting of results.