UBE receives "Excellent" (5 stars) CG Scoring and SET ESG Ratings at Level A
Reflects a commitment to conducting business according to the principles of good corporate governance with ESG as the organizational culture for establishing sustainable energy and food companies in every dimension.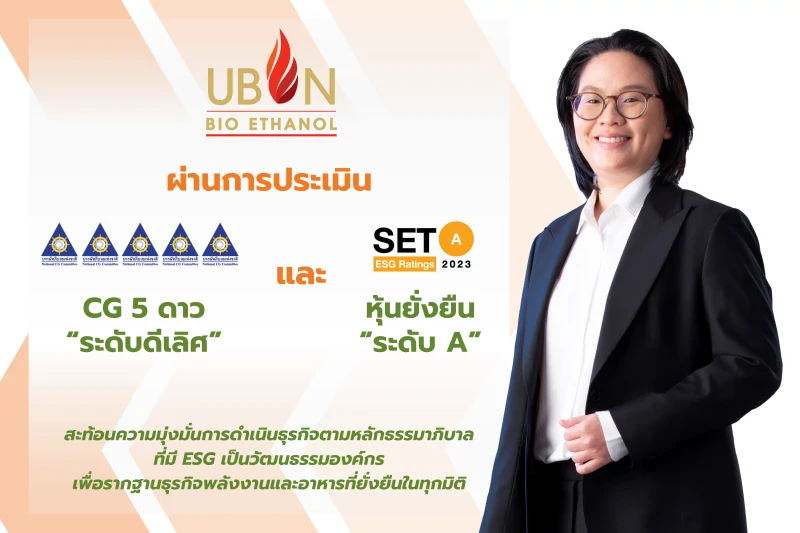 Ubon Bio Ethanol Public Company Limited or UBE, a Thailand's leading manufacturer and distributor of processed cassava products, has achieved an "excellent" CG rating or 5 stars in the Corporate Governance Report (CGR) of Thai listed companies by the Thai Institute of Directors (IOD) in cooperation with the Stock Exchange of Thailand (SET) and has been listed in the SET ESG Ratings (formerly THSI) at "A-Level". This reflects our commitment to raising business standards based on the principles of good corporate governance that considers the interests of all stakeholders and covers all dimensions in accordance with ESG guidelines that integrate sustainability strategies and are in line with business strategies for sustainable growth.
Ms. Sureeyot Khowsurat, Chief Executive Officer and Managing Director of UBE, revealed that "The recognition of the success of this year's assessment is a matter of pride and encouragement for the Board of Directors, executives and all employees. It is seen as a reward for the collective work until UBE is recognized as a company with good corporate governance at the excellent CG or 5-star level, and eventually listed at the A level in the SET ESG ratings. Fulfilling the various criteria of both ratings is seen as the basis for business development, with ESG being a strong foundation to support the company and stakeholders in becoming sustainable in a tangible way. I would like to thank the IOD and SET for organizing good projects with more intensive evaluation criteria every year. And most importantly, it allows us to look at ourselves and get an outside perspective to think about what areas we need to develop and add, which has helped us not to lose our way of working. Above all, creating an organizational culture where all employees are aware of ESG and business growth, and doing it as a regular activity becomes a habit until it becomes an ingrained discipline. This is an important goal in the challenge of passing sustainability management internally from one generation to the next.
An important part that the working group sees in promoting sustainability within the organization from the perspective of the evaluation criteria is 1) the introduction of a working process in each department that takes into account stakeholders. There is a more comprehensive management system in place to respond immediately to needs, and 2) we have a business risk assessment methodology that must be aligned with the important issues the company needs to address, brainstorm and analyze to account for rapidly changing economic, social, environmental and climate factors that we need to adapt, and there is a project that drives the organization to innovate so that we help each other invent new things to increase competitiveness.
"On behalf of all employees, I would like to advocate that we continue to conduct our business transparently and according to the principles of corporate governance by transforming the company to "UBEYOND" (Beyond Sustainability) to fulfill another dimension in addition to achieving good operating results, which is the basis for the company's growth and the country's development to achieve the international Sustainable Development Goals (SDGs). Thanks again to IOD and SET for encouraging all listed companies to participate in such a valuable activity."
UBE is committed to transforming the concept of "UBEYOND" (in term of Beyond Sustainability) by seriously and concretely developing our work in the field of sustainability so that it is accepted and provides clearer measurement results for the continuation of business operations, and helps to increase competitiveness and build confidence among domestic and foreign investors. We engage all stakeholders by conducting our business in accordance with ESG guidelines that balance the importance of all stakeholders and pay attention to innovation from the beginning and throughout the business cycle, from upstream to downstream production that delivers valuable products to consumers, to make UBE a leading supplier of food and energy products from fully sustainable agriculture.
Remarks:
*UBEYOND comes from the combination of the words UBE + Beyond. It is the concept and strategy in the business operations of UBE and its subsidiaries, committed to creating sustainable and beyond growth in every dimension.